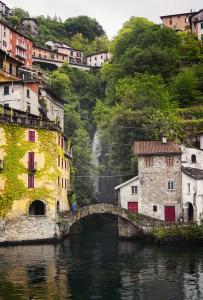 On my day trip north from Milan Italy to Lake Como, I elected to take one of the 'slow ferries' from Como to Bellagio and Varenna. The slow ferries stop every few minutes at another small village along the lake. As the ferry approaches each town you get a good look at the town and landscape.

Since my day trip was a spur of the moment decision, I had no knowledge of any of the villages along Lake Como and loved the approaches to each village. The approach to Nesso was a complete surprise. From afar, you see the typical village built along the steep mountain slopes tumbling down into the lake. As we neared the dock in Nesso, we could see the quaint stone bridge right on the lake edge.

What we couldn't see until just the last minute was the ravine and waterfall! That wasn't visible until we were right in front of it. Luckily since I was already taking some photos of the bridge I quickly made some shots with the waterfall. And then it was gone.

Oddly, after the ferry pulled away from the dock, there must have been a question as to whether another passenger was coming. The ferry circled around for another approach and the photographers on board got a second try at the waterfall! This time we knew it was coming and we were ready.

Written by Giovanni Battista Rampold in the first half of the 19th century: "There are three places from which you can enjoy this waterfall – which is beautiful, majestic, and terrible at once. For the first, reach Nesso and go to the small bridge that looks over the river from the edge of the cataract: from there, you can see the thunderous water bounce off the waves of the lake; behind, you can see the Alpine riverbed disappearing between crumbling mountains. The majesty of the waterfall is right in its middle, where water abandons the cliff, forming a convex mirror, and overflows straight down."

"To see how terrible it is you must get closer to the lake, which is so deep here, and jump from one rock to the next until you are at the bottom of the waterfall. Here, surrounded in splashes of water, you cannot avoid looking up and shivering down to the core; all you see is ruinous white water above you, mixed with darkened, corroded ravines." I'm putting this on my wish list!