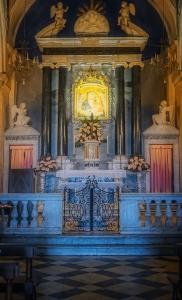 Our Lady of Reggio Sanctuary in Vernazza in the Cinque Terre region of Italy became a REAL sanctuary on the day that I visited. The day before I had aggravated my 'bad knees' from all the steep downhill climbs. But after an overnight rest, I was feeling pretty good at the start of a hike from Saviore to Vernazza. Even with great care, however, my knees started hurting eventually. But no worries, I wasn't in a hurry and I was enjoying the beautiful scenery. That is, until some dark storm clouds appeared on the horizon and worked their way closer to shore.

My choices were…hurry and have my knees be in pain or go slowly and get wet! I chose the second option. Luckily, I wasn't too far from the Sanctuary when the rain started getting heavy. The door was open and inviting, true to the name 'sanctuary', and I was happy to duck inside before the real downpour began.

In the dim interior light, I tried to dry off a bit and put on some extra layers against the chill. I sat and gazed out of the door, trying to figure when the storm would pass. It wasn't looking very hopeful. The rain was coming down in buckets, the wind was howling, and you couldn't see past the end of the yard. The dim interior light was hardly enough to read so there was no use trying to read my hiking guidebook or my other guide books.

Comically, for someone who travels almost exclusively for making photographs, it took some time before I thought "I should be photographing inside this church!" It was pretty dark, just a few lights around the altar and the dim light from the doorway. I didn't have my tripod but I did have a fast prime lens. So I played with the settings to get the lowest ISO I could with a shutter speed I could hold steady. With a 50 mm lens I shot at 1/50 sec at f2.5 and I still needed ISO 2000.

I killed some more time shooting the ceiling frescoes, a side altar with a crucifix, another side altar with a painting, a confessional, the marble pulpit….and soon enough the rain passed. All the while, I was by myself wandering around the tiny sanctuary in the dimmest of light. I felt the need to tiptoe so as not to disturb the quiet. I even put my shutter in quiet mode! The quiet and solitude were intense and unforgettable. I wondered what it was like centuries ago when pilgrims would make their way here. Was it as quiet and magical and welcoming as it was for me? Or was it a busier time for these sanctuaries in the hills? If the 11th century walls could talk, there definitely would be some stories!