May 14th, 2017
I talked with some people who said that the hike from Levanto to Monterosso in the Cinque Terre region of Italy was very pretty so I decided to give it a go. I had a hiking guide that described the hike, noting all the viewpoints and turnoffs but starting in the other direction. Since I was hiking by myself, I decided to go in the direction where I had the most information!

My choices were to climb steeply from Monterosso up to the ridge and then on to Levanto, or to first take a bus to someplace Colle di Gritta and hike from there. My hiking guide that said the second option was longer, but the views were better. It also said that there was less actual climbing on the second route since Colle di Gritta was already at the top of the mountain.

I had injured my knees (actually re-injured my 40+ year knee injury) several days prior and climbing doesn't hurt so much as the descent. So the reduced climbing on the latter route was not an issue, I knew the pain was in going down, not up! But since I wanted to take photos, I elected for 'the views were better' route. The first part was the bus to Colle di Gritta. I was getting to be a pro on the small buses around Cinque Terre and I easily found my bus. The tricky part was figuring out when to get off. But the driver was helpful, and in the middle of nowhere, he announced that I was at my stop!

There was actually one building there, a little cafe/B&B type place. I fortified myself with an espresso and off I went. For 2+ hours I was quite alone on the trail, enjoying the views and the peace and solitude without any of the trail running groups, singing boy scout groups, and very determined hiking groups that seem to be common in the area! This view is taken from the part of the path along the eastern slope of Monte Ve Focone where you get a good view towards the south down the coast of the Cinque Terre. From here you see just a bit of Monterosso in the curve of the shoreline, some vineyards along the mountain slopes and in the hazy distance the town of Vernazza. The blue of the Ligurian Sea was, as always, stunning!

Hiking in the morning is always cooler and less crowded but in this instance you are facing into the sun. Not ideal for photos, but still wonderful for being 'in the moment'. It isn't hard to see why the entire zone of the Cinque Terre is called the Italian Riviera and has been named a UNESCO World Heritage Site as well as a national park.

If you are interested in the hiking path description of this section, here it is: "This sixth and last leg is 10 kilometres long with a height difference of 220 metres high, reaching maximum height at 460 metres at Monte Rossini. The average completion time is 3 hours. The walk again goes through pinewoods till one reaches Monte Rossini and then descends to Sella dei Bagari, a crossroads for various paths. At this point the path follows the ridge of Monte Focone towards Punta Mesco, along which one meets the path that leads to Monterosso and one takes a detour towards Levanto. Along the path one comes up against Casa Lovara and Casa Meridiana. One proceeds on an almost level path till one reaches the tarmac road to Mesco. Here one descends for a brief stretch until one reaches the path made up of large steps. One passes next to the house used by Guglielmo Marconi for his radio transmission experiments. After a little while one reaches the castle, where one can take stairs going to the sea promenade."

At that point, I was obsessed with finding gelato!

May 11th, 2017
My day trip from Milan Italy heading north to Lake Como was a spur of the moment decision so I went without much of a plan except to take the train to Como and then ride the ferry from Como to Bellagio and Varenna. There are fast ferries (that make fewer stops) and slow ferries (that make a lot of stops). I opted for the slow ferry, mostly because that was the one that was leaving next! If there is an advantage to the slow ferry, it's that you get a more close up view of the towns along the way! Despite that advantage, I was freezing by the time I got to Bellagio (my first stop). After a couple of hours here walking around town and yes, eating gelato despite being cold, I caught the ferry to Varenna.

As we approached Varenna, I noticed a castle high atop a hill. For someone who loves a good climb, this was the perfect way to spend my time in Varenna. My lack of planning led to some delightful surprises along the way. But first I had to figure out how to get there. I stopped at the tourist information office at the train station where a surly attendant gave me a map. And off I went. My first surprise was that the hike up to the castle was not just through the woods. There was a delightful little village along the way called Vezio. If I'd been in a car, I could have driven there and walked the short remaining distance. Which is apparently what a lot of people did because despite not seeing anyone on the trail, there were a lot of people at the castle (well, maybe a couple dozen…).

There was quite a nice cafe/gift shop where you purchase a ticket for the castle. Another surprise…..I thought there would just be some ruins to walk around. Once onto the castle grounds you might be treated to a talk (in Italian) and demonstration of falconry. However, to me the highlight was the view! You can see far to the north to the Alps, as seen in this photo, or far to the south along the two southern arms of Lake Como. It's hard to drag yourself away. After drinking in the view for an hour or so, I made the trek back down the hill and headed off to find a beer before my train departed. Altogether a wonderful way to spend the afternoon. Varenna is definitely on my list for a return trip someday.

May 10th, 2017
When I travel I usually do a lot of reading ahead of time so that I am somewhat familiar as to what to expect. However on my recent trip to the Cinque Terre region of Italy, I had some last minute changes in my hiking plans after hearing how nice the hike was from Monterosso north to Levanto. As a result, I knew nothing about Levanto when I arrived except that was where I changed trains for Milan.

After 5 hours on the trail I headed to the first gelato place I could find to fortify myself for some more walking! After just a little search, I spied that blue sign with the lower case 'i' indicated tourist information. Not only did they show me the map and some local sights, they gave me a booklet with some suggested walks. I was quite thankful for that because aside from being physically tired from the hike, I was mentally tired and not in mood to try to plan anything! So I just followed a couple of the pre-planned walks.

This is the church of Sant'Andrea or Saint Andrew dating from the 13th century. Many of the churches in the region use alternating stripes of white Carrara marble and a local greenish/black stone called serpentinite to construct the facade. This church follows that model, as does one of the churches in Monterosso. On the interior, you get a hint of what it looks like in the arches around the windows. It is always humbling to visit these old structures to witness the craftsmanship and care taken in the construction in light of what modern day people might view as limited tools and technology. It is also a treat to visit these places because they are often totally empty, giving you quiet and rest and solitude, regardless of your faith or beliefs.

May 9th, 2017
Getting to the Cinque Terre region of Italy from Dallas/Fort Worth is relatively straightforward but still a bit long. The hard part is wondering whether your flights will be on time so that you can make your train connections….leave enough layover time to account for contingencies but not so much that you spend excessive time traveling. Dallas to Miami to Milan, then catch the Malpensa Express to Milano Centrale for the train to La Spezia and a connection to Riomaggiore, my home for the next several days.

I was pretty tired from not having slept much on the flight and I thought I'd just go right to sleep when I arrived. But my first view of the aqua blue of the Mediterranean as the train made its way down the coast was intoxicating. My host Christina at I Limone Di Thule in Riomaggiore didn't help matters, as she peppered me with suggestions of what I could do my first evening there! So I grabbed my camera and headed out for a couple of hours.

Going to the harbor is a natural first stop. As the sun was starting its descent, people were gathered on the rocks to watch the sunset. Like some other photographers, I was drawn to the boats pulled up in the tiny square next to the harbor. Once I started making some photos, the fatigue left and I enjoyed the rest of my first night out in Cinque Terre.

October 31st, 2014
Hi Everyone! It has been a busy autumn, that is for sure! But the last of the art shows for the fall is over and it was wonderful to meet some of you, and also to meet some returning customers from previous shows.

The highlight of October was a trip to Budapest Hungary! I stayed in a B&B about 2 blocks from the Hungarian Parliament Building, one of the visual highlights of the city. It was also 2 blocks from the metro and tram stops so it was a fabulous location, convenient to everything. The B&B itself is in an old classical building but everything inside had been refurbished and was only open 2 wks when I arrived. The people running it are delightful, and staying there really added to the enjoyment of the trip. It's called the Annabelle B&B if any of you are interested.

Since I resided so close to the Parliament Building, I got alot of pictures of it at all times of day! A couple that I have already posted at http://joan-carroll.artistwebsites.com/ include:

Hungarian Parliament Dawn
Hungarian Parliament Building Afternoon
Hungarian Parliament Building Night
Hungarian Parliament Building

Some of the other photos from Budapest are:

View from Fisherman's Bastion
Chain Bridge Gresham Palace and Basilica
Chain Bridge Night Traffic
Szechenyi Baths Budapest Hungary

My other October adventure was a couple of days in NY/NJ where I managed to fit in some lighthouse and covered bridge photography. Those are two of my favorite photographic subjects so I had fun with that. However, the biggest surprise to me was the wonderful view of the NYC skyline that you have from Hoboken NJ. I grew up in NJ and never thought that Hoboken was someplace you'd want to go. But it has been gentrified and is now a pretty 'in' place to be. I have only posted 2 photos from that trip so far, entitled

New York City Skyline
Forge Bridge

Looking ahead:

If you saw something at one of the art shows but didn't get it, and now you find you want it for a holiday gift, send me an email through this website, and if I still have it we can figure out a way to get it to you. Otherwise, I would be honored and pleased if you picked any of my works for any of your holiday gift needs. My only other local appearance this year will be at The Exchange at the Joint Reserve Base in Fort Worth TX during the week of December 15. But you have to have a military ID to get on base so it's not accessible to all.

A winter vacation to Seoul Korea is also in the works which we are very excited about! Of course it always a 'working' vacation for me, but I never had such fun working.

Thanks everyone!
Joan



September 24th, 2014
We finally made it to autumn here in Texas, and a lovely 60 degrees it was this morning for my walk! Looks like there will be wonderful weather this weekend for the art show in Arlington, where I will be at Booth #2. Saturday is my 28th anniversary, it would make my day if you stopped by to say hello! It is the South Street Art Festival, Friday night, all day Saturday and until 5 pm on Sunday. The details are here:

http://fineartamerica.com/events/south-street-art-festival.html

October is a busy busy month! Right after South Street in Arlington, I am heading off to Budapest for some photography of course, and also for a taste of those famous baths! I've got my bathing suit packed so I am ready for the experience. When I get back from that, I'll be at the Fort Worth Arts Goggle on October 11. I have never been in this event but always heard it's fun and funky and eclectic. Can you believe, that is also my husband's birthday? Here are the details of that show, it's only one day on Fort Worth's South Side so come on out!

http://fineartamerica.com/events/1-arts-goggle.html

Right after that I leave for a few days in NY/NJ to visit some lighthouses along the Hudson River, maybe some covered bridges in southern NY, go to a HS reunion, connect with some old friends and family. It will be a whirlwind trip for sure but it should leave me with enough new material for some photos for 2015 shows.

Right now my final show of the fall will be the last weekend in October in Richardson TX, the Huffhines Art Trails event. We were there last year, it's a great venue located in Huffhines Park. I don't get as much of a chance to wander around the show as I'd like, but the variety of art is great, and wandering along the trails of the park to view the art is relaxing and fun. Here are the details!

http://fineartamerica.com/events/huffhines-art-trails.html

Thanks for reading! Please subscribe to my email list at

http://joan-carroll.artistwebsites.com/subscribewebsiteemaillist.html

to get other news, specials, and discounts! Have a great October, and I hope to see you at one of the shows.

August 31st, 2014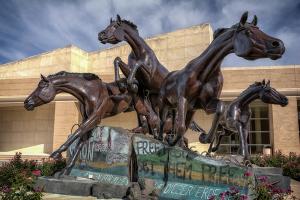 Welcome to my September newsletter! It's Labor Day weekend, and alot of people are wrapping up their summer holidays and looking forward to the fall! Same here....it's hard to stay inspired to go outside for photography in the Texas heat so some cooler weather. But I did manage a few Texas trips during July and August, the first to Austin and some Texas county courthouses on the way there and back. Check out my photos from Lampasas (Lampasas TX), Williamson (Georgetown TX), Hamilton (Hamilton, TX), Erath (Stephenville, TX) and Bosque (Meridian, TX) courthouses in my County Courthouse Gallery

http://fineartamerica.com/profiles/joan-carroll.html?tab=artworkgalleries&artworkgalleryid=288092


My second trip was to Waco TX for some photos at Baylor University, and to College Station TX for some photos at Texas A&M University. I wanted to time my trip so that it was in between semesters so that traffic and parking would be easier. Of course that was a brutally hot week in August. You can see some of the photos from this trip in my Colleges Universities and Sports gallery. There are also some photos from the University of Texas in Austin from that trip in July:

http://fineartamerica.com/profiles/joan-carroll.html?tab=artworkgalleries&artworkgalleryid=263432


Upcoming in the fall are a few local art shows. The first is the South Street Art Festival in Arlington TX on the weekend of Sept 26-28. My 28th anniversary is Sept 27....what a way to spend an anniversary! This will be the first time I will exhibit at this show so I hope you will stop by if you are in the area! The second show is a one day event in Fort Worth TX, the Southside Arts Goggle on October 11. That happens to be my husband's birthday. Looks like all our celebrating this fall will be at art shows!


Thanks for reading! Please subscribe to my email list at


http://joan-carroll.artistwebsites.com/subscribewebsiteemaillist.html


to get other news, specials, and discounts! Have a great September.

August 5th, 2014
I am thrilled to be featured in the latest issue of Eye on Fine Art Photography! I've attached the pages regarding the contest on Fine Art America where my image of some of the architecture in Fort Worth won first place.

This is what the text says, if you don't feel like squinting: My twin loves of photography and travel emerged early in life. I remember being enchanted by rare trips to an airport to meet an arriving flight, and equally enchanted by a train trip on the California Zephyr from Denver to Salt Lake City. Clearly, I wanted to go places! On these trips I had my trusty Kodak Instamatic camera, with those funky flash cubes! But almost as soon as I could, I was out traveling on my own! Luckily this coincided with an interest in 35 mm photography which I learned on my own and from friends. I can remember taking dozens of rolls of film on every trip...black and white and color in every ISO I thought I'd need! Fast forward to 2008 after multiple academic degrees and a couple of careers...I found myself at the Beijing Summer Olympics. Two very memorable things occurred on that trip. The first was that a random picture taken of me showed a woman who was bursting with happiness. I was actually shocked when I first saw the picture for I had never seen myself look so happy....and I had just been laid off from my job! That had to mean something. The second was the amazingly inspirational nature of some of the sights that I encountered along the way in Beijing, Chengdu, and Shanghai (China) and Lhasa (Tibet). My love of photography reemerged and I decided to devote my time and energy to it. While I was first introduced to photography through landscapes, I began to find my niche in architectural photography, finding inspiration in urban scenes and urban architecture. In my hometown of Fort Worth TX, I have explored our historical, endangered, and modern architecture. Farther afield, I have come to love the amazing historical county courthouses of Texas as well as other iconic Texas landmarks. From across the US, you will discover in my portfolio my love of lighthouses! And from around the world you will discover in my works some of the wonders, large and small, from places such as Alaska, Colorado, California, Rhode Island, Wisconsin, New Jersey, Washington DC, Florida, the Canadian Arctic, Fort Worth, China, Tibet, Australia, New Zealand, Amsterdam, Frankfurt, Brussels, Berlin, Bruges, Antwerp, Ghent, Istanbul, London, Prague, Rome, Vienna, and Spain. I would be honored if you would browse through my portfolio!

Here is a link for the entire magazine if you would like to subscribe to the digital version: https://sellfy.com/CTPublications
June 17th, 2014
Do you have any great ideas for photo ops in the DFW area?

People at art shows often ask me "Do you have a picture of ____?" Sometimes I do, sometimes I don't. And when I don't, it's a great opportunity for me to get out and find some new local treasure! It's amazing how many interesting places there are to go around this area, if you only know where they are!

If you have a favorite place in the Dallas-Fort Worth area you'd like to see a photo of, drop me a line and let me know at joan.carroll1992@gmail.com.


June 11th, 2014
I happened to run across this link today...do our schools kill creativity? Without weighing in on that topic specifically, it got me to thinking about my days in elementary school and even high school. I don't feel that creativity was encouraged, not in the places you might expect it (like art class) or even in any academic subject. Different ways of looking at things were not the norm. I grew up believing that I was not creative, but that I was very logical, analytical, and objective. And while I still believe that I have these qualities, I have lately discovered that there was creativity lurking there all the while.

All it took to uncover this creativity was being laid off from a job! That may not sound like the ideal situation, and in many cases it isn't, but in my case it was the perfect confluence of events. I probably would not have quit that job on my own, electing the security of a paycheck and health insurance. But the payback has been happiness and health and a discovery of the creativity that was there all along, just waiting for the opportunity to emerge.