May 4th, 2014
Hot weather approaches in Texas, signaling the end of the outdoor art show season! We may love the warm weather here but we don't want to stand outside in it all day! My last show for the spring will be at the Allen Arts Festival in Allen TX on the weekend of May 9-May 11. That is Mother's Day on may 11 so this is the perfect opportunity to buy your mom some wonderful art....something made lovingly in the USA! Art is a lasting gift, so I hope to see you there!
April 1st, 2014
In Toledo Spain, I had churros and chocolate for breakfast at a place called El Cafe de Las Monjas, When I just looked online, it didn't get very good reviews and I have to say I didn't really disagree with the reviews. The cafe is on one of the main tourist drags so that is never a good indication of a place to go. Nevertheless I went there because the urge for churros and chocolate hit hard, PLUS they had this super-cute window display on the making of marzipan, part of which is shown in this photo. In Toledo, and probably other places in Spain, marzipan is made traditionally by religious orders in the convents. You can buy it in the shops but it is WAY more fun to go to the convents to buy it. If you don't speak Spanish, it is also a wonderful adventure rather than a routine transaction. You find the unpretentious doorway with a small sign saying to ring the bell for 'dulces' (sweets). When I did this in Toledo, a voice came over the speaker speaking rapidly (to me) in Spanish. I had no idea what they were saying but tried to tell her I wanted to purchase dulces. She kept talking and talking and I felt more and more helpless! Finally a lovely local person came by and talked for me. At that point I was buzzed into a dark foyer and I walked in what seemed a logical direction. Finally I came to a old cabinet with some examples of packages you can buy. While you are looking this over, a small door in the wall opens and a disembodied voice within asks you what you want. You tell them (you try your best to tell them!), you wait, and then the door slides open again and your selection is pushed out. You pay. It's way more fun than buying at the shops! I felt that I had been momentarily transported to another world. And Toledo marzipan is one of the best things you will EVER eat!
March 19th, 2014
I took this picture in February 2012 on a trip to Istanbul. My husband was there with USA Track and Field for the World Indoor Championships but as the schedule worked out I never saw him the entire time! So I had a week on my own in Istanbul. This fish market was a bit intimidating....everybody hustling and doing business. But when I was brave enough to buy a fish sandwish, it was definitely the freshest of fish. Do NOT picture Pike Place Market in Seattle where the vendors often cater to the tourists as they throw the fish around! This was definitely NOT a tourist market! The market is located on the New District side of the Galata Bridge in case you are in the nieghborhood!
March 17th, 2014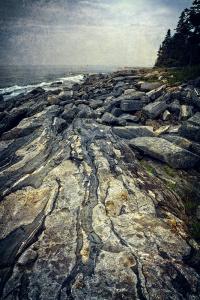 I love looking through my older files to see things in a fresh way. This picture was taking in June of 2013 when I was on a 'lighthouse tour' in Maine, New Hampshire, and Massachusetts. On my own personal tour, I was attempting to see as many lighthouses as I could in only 3 days. Needless to say, I am not easily distracted while on my quest. But the classic rocky shoreline of Maine slowed me down and got me to stop and smell the salt water! This photo was taken close to Pemaquid Lighthouse, an historic U.S. lighthouse located in Bristol, Lincoln County, Maine, at the tip of the Pemaquid Neck. Fun fact about Pemaquid....it's image is on the back of Maine's quarter. The rocks around the lighthouse are equally dramatic as you can see in these other two photos of mine:

http://joan-carroll.artistwebsites.com/featured/pemaquid-light-joan-carroll.html

http://joan-carroll.artistwebsites.com/featured/waiting-for-their-ship-to-come-in-joan-carroll.html

Thanks for having a look!
March 12th, 2014
I had someone ask me today about one of my images from Rome, so afterwards I decided that my digital darkroom efforts today would be of another Rome image. Rome is an amazing place and if you have been there you know what I am talking about! Especially to an American, where something 150 years old is astounding! Here in this picture is the Arch of Constantine which was erected by the Roman Senate to commemorate Constantine I's victory over Maxentius at the Battle of Milvian Bridge on October 28, 312. I guess I didn't realize when we were there that it was almost exactly 1700 years later that we stood on that spot! One interesting fact about the Battle of Milvian Bridge is that prior to the battle, Constantine is reputed to have look up to the sun and saw a cross of light above it and with it the Greek words translated as 'in this sign you shal conquer'. Constantine commanded his troops to adorn their shields with a Christian symbol and thereafter they were victorious. So not only does this Arch commemorate his victory, but in a way commemorates the the legalization of Christianity in the Roman Empire.
March 9th, 2014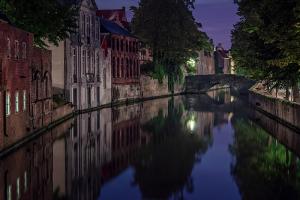 A great way to get 'nighttime' photographs is to go out early in the morning! Since I am a morning person and not a night person, this is a very appealing option for me. The only problem I ran into (in some European cities that have their buildings brightly lit at night) is that at some point the lights go off and the city goes dark. This was the case for one of the buildings I wanted to photograph (the Stadhuis) in Bruges. Also unfortunately, I had dragged my spouse out of bed early to accompany me and he is not a morning person! Luckily I was able to get a wonderful photo of Blind Donkey Alley, then just turning to my right, there was this wonderful canal scene just as dawn was beginning to break. Also luckily my spouse felt that getting out of bed early was not a total waste! Click on the button below to see more about this photo! thanks for stopping by!
March 7th, 2014
I'm not a late night kind of person so one of the treats of visiting Prague in the winter...if you like nighttime photography....is that the sun goes down about 4 pm! There didn't seem to be much twilight either so you can have full darkness by 5 to get going on your nighttime work! The view of Prague Castle from across the Vltava River is iconic and nightly lots of photographers line the riverbank for photographs....cell phone pics, point and shoot pics, 35 mm digital pics, you name it, it's all out there! This picture is taken slightly to the north of the location of the most common photo spot which has the Charles Bridge in the foreground. I liked this location to include St Nicholas church in the frame as well. It's so beautiful how all of Prague is lit up at night! I don't know what time all the lights go out but I can tell you they are not on in the early morning before sunrise! I thought I might do some pictures early in the morning of the castle all lit up but all was dark. Click on the link below to see more about this image.
March 6th, 2014
Here's a little of the backstory behind "Karlstejn Castle Doorway" (click on the button below to see the photo). Karlstejn Castle is not too far from Prague so is an easy day trip. We were there in December so you have to check carefully to make sure if and when it will be open for visiting. Apparently it's a very popular place so in the summer is pretty mobbed. Even in December there was a 'decent' crowd, but not overwhelming. It's a lovely walk from the train station to the castle with spectacular castle views from below the whole way. When we got there, we had to wait about 30 minutes before the next tour of the inside in English. Never one to sit around....I can do that at home....I started walking all over the grounds where I could for some photos. There were fantastic views of the valley looking down from the ramparts and fantastic views looking up at the castle! The simple scene in "Karlstejn Castle Doorway" appealed to me because of the soft winter sunlight and long shadows. Even though the picture was taken at 12:30 pm, the lighting looks like early morning. I could picture myself staying overnight at the castle (just dreaming, you really can't do that) then opening this door to the morning light and having my coffee. Sounds like a perfect TV commercial for coffee! I don't aspire to live in the northern latitudes where the sun sets at 4 pm and maybe even earlier! But I can appreciate the light quality when I am visiting.
March 5th, 2014
I'll be at 2 local art shows this spring. The first one will be the weekend of March 29 and 30 in Frisco TX, the Arts in the Square show (http://www.friscosquare.com/aits). The second one is the Main Street Arts festival in Fort Worth (http://www.mainstreetartsfest.org/). Looking forward to meeting you there!